Security Services
Grizzly Security is one of Montana's foremost leaders in private security. We are able to provide both armed and unarmed officers whether you are in need of a single officer or a large security force. We are able to supply our clients with uniformed, licensed, trained, and experienced security officers who will work around the clock to ensure our client's personnel, property, and information is safe. Grizzly Security provides the necessary services to ensure our clients' needs are met.
Grizzly Security also provides personal protection services, security consulting, and security training.
Whatever the situation, we can provide a tailored combination of personnel and skills to ensure the safety and security of our customers and their property.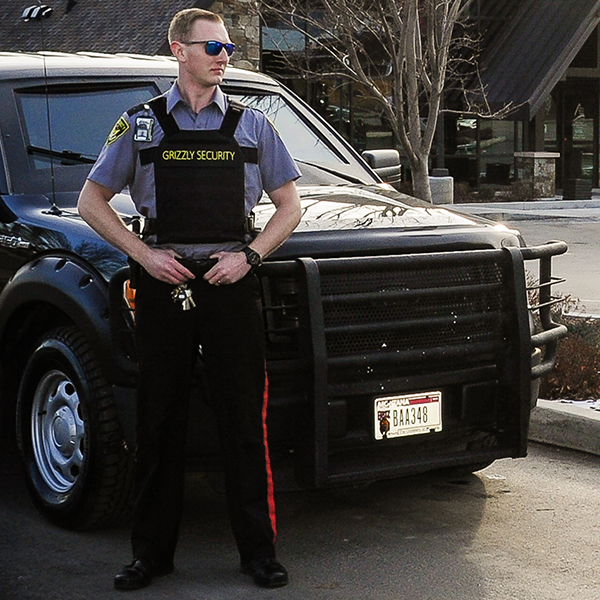 Post Officers
Standing Post Guards-Our guards provide a variety of services ranging from, perimeter checks and entry control, to ensuring on-premise security.  Our services are tailored to our customer's needs.
Patrol Services- These services include both foot and vehicle patrols as necessary.  We ensure that our customers receive the highest level of service and security that we can provide.
Residential Monitoring is a unique service that Grizzly Security performs to provide peace of mind to individuals who leave their homes unattended for extended periods of time. We work in-unison with Grizzly Alarms and other partner companies to monitor the security of the residence as well as water leaks, fire, temperature, and other environmental alerts.
Personal Protection
While many aspects of Grizzly Security focus on the protection of property, people, and information, our personal protection division concentrates on keeping a single person or group of people safe from physical harm. In the past we have worked with various organizations including the United States Capitol Police, Secret Service, Montana Highway Patrol, along with numerous other state and local agencies to ensure that our clients are kept safe. The officers who perform these tasks are armed and trained in bodyguard and VIP protection techniques. Our clients have included United States Senators and Representatives, government officials of all levels, both foreign and domestic, and members of the private sector whose fame or notoriety placed them in harm's way.
Security Consulting
Grizzly Security provides security consulting for companies and individuals to identify and provide solutions to their specific needs. Our security consultant interviews the client and evaluates their needs based on each individual situation, we are then able to provide a recommendation of the optimal available security solutions.
Our security consultants have an extensive background in all aspects of security, as well as law enforcement. We often work with Grizzly Alarms to ensure our clients are provided with the best possible combination of alarms and electronic security.
Security & Safety Training
Grizzly Security has a wide variety of well-educated personnel, encompassing former law enforcement, military, and highly trained private security officers. We are able to provide our clients with educational classes and seminars which include, but are not limited to, active shooter response, protection from chemical/biological/nuclear incidents, and hazmat protection. We regularly participate in community services that are aimed at educating the public on security and identification of public threats.
Grizzly Security can also provide security guard training for companies or individuals who wish to train their own in-house officers in compliance with the Montana State Board of Private Security.
For more information or to contact us about our services click here.